Danielle Dresden's Plays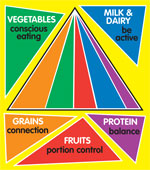 The Food Connection: A BB Broccoli and Sweet Potato Adventure
Building healthy bodies and happy audiences… this 45-minute musical adventure for children in Kindergarten through 4th grade is full of action, humor and nutritional content. The play takes place in Iconland, where symbols live, and where the evil Dr. Smush and his sidekick Additive are plotting to take over the world by altering the Food Pyramid. Fortunately for everyone's health, our two valiant vegetables save the day, thanks to songs like "Human Beings Are Moving Machines" and "Vegetables Can Save the World," help from The Titanium Cook and the Liberated Lunch Lady and their own fiber content.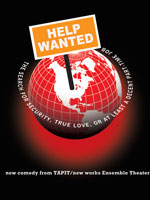 Help Wanted; A Comedy About the Search for Security, True Love or At Least a Decent Part-Time Job
is about lay-offs, larceny and love – in that order. It features an IT guy whose iPhone tells him he's in different places, a career gal with a timely flat tire, a philosophical Help Desk staffer, an office manager channeling her inner warrior and two con men. The action kicks off when employees at Assiste Corporation learn their company is going bankrupt and their jobs are in jeopardy. Two con men plan to make the most of this situation. The play follows these characters as they strive to get what they want and confront – or actively avoid – their issues with asking for, giving and receiving help. There's music and voiceovers along the way, including a song of loneliness for two soon to be lovers, and a dream musical number fusing Bertolt Brecht and Busby Berkeley. And let's not forget the ending, which is – if not exactly happy – definitely hopeful, and that's pretty darn good for a play about life today.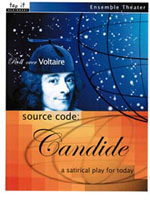 Source Code: Candide
Roll over, Voltaire. "Source Code: Candide" has a fresh approach to the book you don't remember reading in school. Where the original Candide mocked a foolish optimism, proclaiming ours "the best of all possible worlds," this play tackles fundamentalists of all stripes. The play follows Candide's story, from his innocent beginnings with a faith-based multi-national corporation to his work as a gardener in Las Vegas. Along the way, he tangles with extremists in the deserts of Iraq and a vegetarian coffeehouse in Minnesota and visits with someone who might be God in the Garden of Eden. "Source Code: Candide" is full of absurd situations, disguises, revelations of characters, and physical comedy -- all conveyed by four actors on a unit set. "Source Code: Candide" received the Wisconsin Council of Writers Drama Award in 2006 and enjoyed successful productions in San Miguel de Allende, Mexico, in March, 2008, at the Overture Center in Madison, Wisconsin, in April, 2005, and in Williams Bay, Wisconsin, in June, 2005.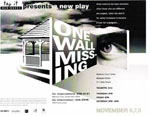 One Wall Missing
America has been attacked, suspicion is the name of the game and the search for safety threatens to become a hunt for scapegoats... Is it the dawn of the McCarthy era or the 21st century? One Wall Missing is a play about how what we shut out shapes us, from exclusion practiced in the name of safety to the unexpected personal consequences of history. The play juxtaposes the stories of present day newcomers to a New Urbanist subdivision and a Jewish refugee physicist in the early 1950s. As contemporary characters react to the arrest of their unseen Arab neighbor and the physicist is brought in for questioning by the FBI, we discover the personal and political connections between security concerns of the past and present. The play calls for a unit set. Actors play multiple roles and the character of Dr. Walter Littleman is to be played by a woman in drag. One Wall Missing received the Wisconsin Council of Writers 2003 Drama Award and enjoyed successful productions in Madison, Wisconsin and Lake Geneva in 2003 and 2004.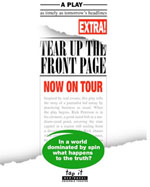 Tear Up the Front Page
A play as timely as tomorrow's headlines, Tear Up the Front Page tells the story of Rick Peterson, a journalist led astray by practicing business as usual. As Rick chases what could be the story of his career, he is forced to confront the conflict between personal and professional ideals. Inspired by real events, the play probes the dangerous interdependence between politicians and the press, and was informed by listening sessions conducted across the political spectrum. Tear Up the Front Page was written for a unit set, and uses projected quotes and images. The play enjoyed successful performances at the University of Wisconsin-Marathon County in April, 2009, Mineral Point, Wisconsin in October, 2008, Purdue University in April, 2008, and Madison, Wisconsin, in November, 2006.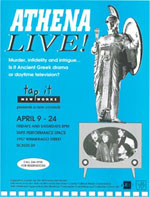 Athena, Live!
Murder, infidelity, intrigue.... is it Ancient Greek drama or daytime television? It's Athena, Live! a new take on The Oresteia, by Aeschylus. Born of a deep love for Ancient Greek mythology and drama and a refusal to take them too seriously, Athena, Live! sets the carryings-on of Electra, Orestes, Clytemnestra and Agamemnon in the context of a modern daytime television talk show. Psychics, family therapists and private investigators all join talk show host Athena, the goddess of wisdom, as she seeks resolution for a family in crises. With references to modern trials Athena Live! offers a fresh and satiric perspective on guilt, innocence and the limits of vengeance. Athena, Live! received the 2000 Drama Award from the Wisconsin Council of Writers and enjoyed successful performances in Madison, Wisconsin and at the Edinburgh Fringe Festival in Scotland. A monologue from the play was published in the collection, Young Women's Monologues from Contemporary Plays #2 from Meriwether Publishing Ltd in 2008. The play is written for 4 actors playing multiple roles and calls for a unit set.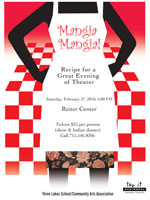 Mangia, Mangia!
Humor, heart and a little something to eat... These are the key ingredients of Mangia, Mangia! Inspired by real-life reminiscences and recipes, this play brings to life the good times and tastes of Madison, Wisconsin's fabled Greenbush, a primarily Italian neighborhood. Just as you don't have to be Italian to love spaghetti and pizza, audiences connect with the characters in this warm-hearted comedy no matter where they're from. Mangia, Mangia! shows us how food and family, along with extra helpings of sauce and spirit, help people make it through tough times. The script is based on interviews with former Greenbush residents and a series of cookbooks featuring recipes and memories of the Greenbush by Catherine Tripalin Murray. An intergenerational cast of four women takes audiences inside the kitchens, homes and even the imaginations of the women who kept the Greenbush clean and well fed.
Just My Luck
Just My Luck follows four characters as they begin journeys in pursuit of very different goals. Nicky the ne'er do well is heading towards a possible family reconciliation although he'd rather hook up with a hot date, Lorraine the misunderstood pollster is hurrying home to a loved one facing surgery, Eva the conflicted academic must deliver a paper and Frank, the salesman, is desperate to launch his new novelty item, the Luckmaker. When their flight is cancelled we see how luck affects us all, and how individual quirks affect the way we respond to luck. Mixed up cell phones, mistaken identity and a little problem with airport security complicate the action and add to the comedy. A one-act play, Just My Luck calls for 4 actors, two male and two female, and a unit set. This comic play about personalities and luck in airports premiered in November, 2007 as part of the Break A Leg mini-festival of ensemble theater in Madison, Wisconsin.
The Girls From Building B
It's like visiting relatives, but with more laughs. It's The Girls From Building B, a play mixing celebrating life as it is lived, and commented on, in Miami Beach. In performances from Northern Wisconsin to South Florida, the humor and heart of this production have touched audiences of all ages, from baby boomers to older adults to teenagers. Through comic scenes, song and tap dance, we see how the older adult residents of an apartment complex in Miami Beach make a way of life for themselves, despite the challenges of advancing age, uncooperative children, tricky digestive tracts and the threat of their building going condo. Music is woven throughout the show, including a rousing production number and tap-dancing Mah Jong. Everybody gets funky when it's time for "The Grandma Rap." The script is based on interviews with the original "Girls From Building B," as well as their children, grandchildren and assorted friends and family.
Click here for the complete list of plays.
CONTACT: danielledresden@gmail.com 608.244.2938